Post by IndustrialAction on Apr 5, 2013 21:46:33 GMT -5
Tactical Alliance Saber by IndustrialAction Customs
& CSJ Props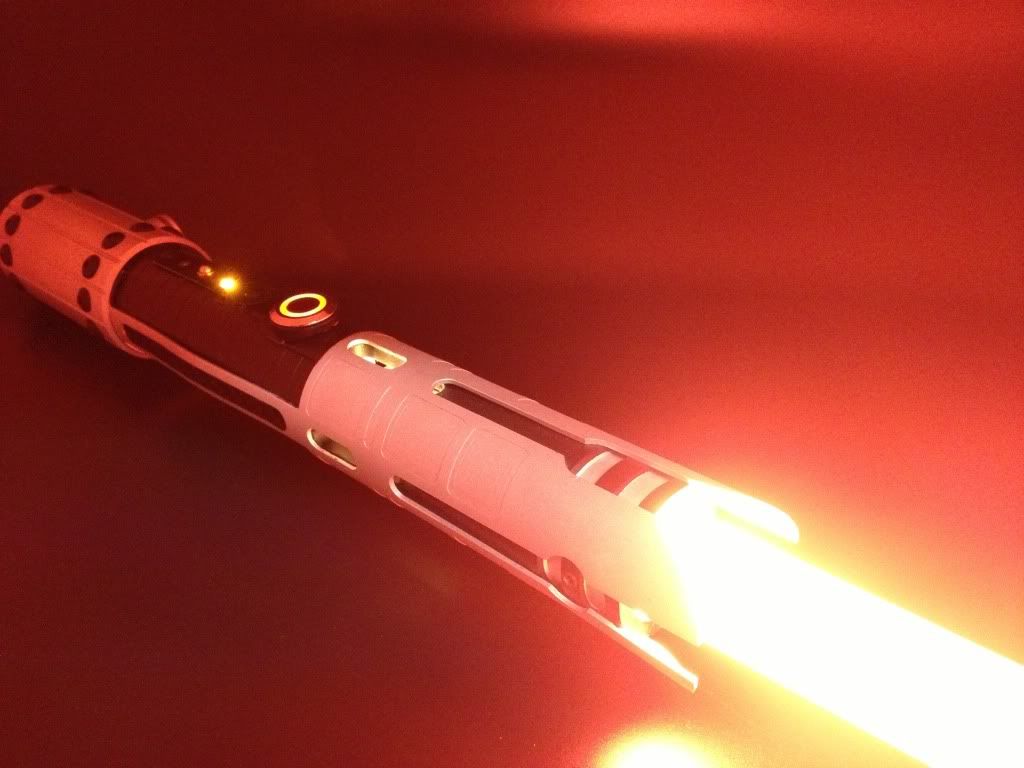 Greetings saber fans! Today I am proud to show off another join effort, this time done in conjunction with Keil Edge/Corran Horn of CSJ Props. This is an Alliance saber that I acquired some time last year. I had the hilt media blasted and then did the accent paint in a triple baked high temp matte black. I had most of the original install done and then ran in to some serious trouble with the shroud. The extra bit of width from the paint caused the shroud to lock-up and buckle as I was installing it. Any saber builder knows that there's nothing worse than damaging a great saber in the final push. I got frustrated with it after doing my best to pound out the damage and put it aside.
I hated seeing it sitting in my to-do pile. It is such a nice saber and it was a shame to leave it like it was but I didn't have the heart to work on it again. I happened to mention it to Kyle and he said he'd like to take a crack at it. As you'll see in the pictures and video, it is once again a killer saber!
Kyle managed to work out some strategic cuts and mods to bring the saber back to life. He had to pull out 90% of the install I had done and re-wired everything from scratch. This hilt has been completely turned around!
So, today, I am very happy to show off the final product. This saber features the full Igniter™ R4. The visible crystal is lit by a 5mm RGB LED (properly resistored) and mirrors the blade. There are eight total accent LEDs running in the build so it is about as fully loaded as you can get. The saber has an Arkhan knurled kill key with an orange gem, easy access to the SD card and even a permanent flashing adapter in case there are future firmware releases.
With that, I'll get on to the specs, glams and video. Thanks for checking it out and a huge thanks to Kyle for making this baby hum!
Specs
Igniter™ R4 with DualPhase™
7.4v Li-Ion Pack
In-Covertec Recharge
LEDengin RGBA
Eight Accent LEDs (crystal pommel, side, top and AV switch)
Blade Matching Visible Crystal Core
2W Railmaster Speaker
Media Blasted Finish
Carbon Fiber Accents
Arkhan Knurled Kill Key
Custom Switches