Post by IndustrialAction on Feb 9, 2015 12:54:55 GMT -5
ORDNANCE - an Industrial Action & Arkhan Collaboration - featuring IGNITER 2™
Greetings saber fans! It has been a while since I've posted a build because I've been working hard with Naigon on the new Igniter 2™ by NEC™!! Over the next few weeks I hope to show off a couple more projects but this one is the one I am most proud of. Naigon and I have been working on Igniter 2™ for over a year now and we're finally ready to bring it to YOU!
First, a bit about the saber. Some time ago I approached Arkhan and asked him to make me a hilt that he wanted to build. Something that came out of his mind with no initial influence from me. The only stipulations I made were to request that it have a native 7/8" blade socket and that it be able to use one of the Solo's Hold black Carbonite boxes and man did he ever deliver! I let him work his magic and make something that was totally unique. The end result is a magnificent brass saber styled after a projectile weapon that was actually fairly common during the Clone Wars. I made some slight modifications, adding the brass covertec (which actually protects the pommel), I asked him to make a striker for the brass pommel insert and I added the brass thumbscrew so that it was easy to put a blade in or the specially designed blade plug. I also used a knurled brass kill key that he made me some time ago and added a purple gem. This saber is powered by the brand-new Igniter 2™, a Z6™ LED, a KeepPower 3400mAh 18650 and a 28mm Railmaster speaker. It also features two 12mm AV switches lit by purple LEDs which are sequenced in different ways depending on your actions.
Before I get to the pics, video and full specs, I want to take some time to talk about the Igniter 2™. This board has been in development for some time and I know Naigon is happy to finally be able to release it to the public. We tested it extensively to have the best release possible. Some of the features of the Igniter 2™ include...
Smaller Size
- 2.07" (L) x
0.85" (W)
x 0.23" (H) with TruDrive™ attached, 1.75" (L) with TruDrive™ removed
MaxAmp™ on the board
(2.4W of awesome sound!) [this can even be doubled by adding a SECOND MaxAmp™]
Gyro & Accelerometer on board
, no more clash sensor and fully adjustable/configurable - SaberSense™
Bottom mounted, spring activated SD card holderLow Power ModeDualPhase™ Initiated Power OnSaberApps™
- enjoy the FIRST saber game - SaberSays™ along with the integrated MotionEditor™, ColorEditor™ and MORE (6 apps total, more to come)
Ability to use both Spark Color 2™ and Igniter 2™ ON THE SAME BOARD
! No need to swap anything, just pick your option in the SaberApps™ section while using the saber
Point saber down in Idle mode and press Aux to enter SaberApps™
, no need to use the kill key
Ability to swap main and aux buttons via software instead of physically changing the wiringReturn of classic Lock-upAND MORE!COMPARISON PICS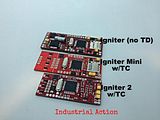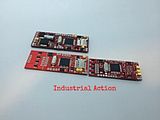 Ok, that's enough talk, on to the specs and pics. Thanks for checking it out!! I apologize that the blade pics are so saturated. The Z6 messes with cameras because it is so bright. All of those pics were done in a pitch black room.
SPECS
Base Hilt: Arkhan Brass Custom
Mods/Design/Install: IndustrialAction
Polish/Design/Config: IndustrialAction
Board: Igniter 2™ by NEC
Soundfont Package: IA Custom, 16 BANKS!
LED: Z6 by NEC™
Battery: KeepPower 3400mAh 18650
Speaker: RailMaster 2W
Pommel Striker: Arkhan
Kill Key: Arkhan
Blade Plug: Arkhan
Blade: 7/8" IndustrialAction SabreBlade™
Inspiration:
PICSHILT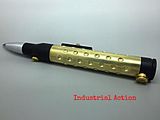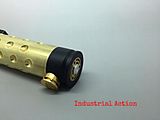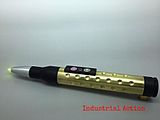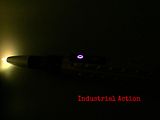 BLADE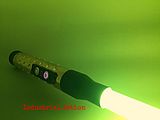 VIDEO